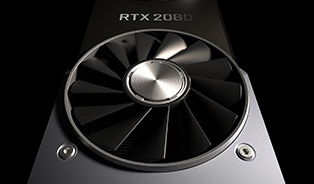 GEFORCE RTX 2080
GRAPHICS REINVENTED
The GeForce RTX 2080 is powered by the all-new NVIDIA Turing architecture to give you incredible new levels of gaming realism, speed, power efficiency, and immersion. This is graphics reinvented.
THE WORLD'S FIRST
RAY TRACING

GAMING GRAPHICS CARD

When it comes to next-gen gaming, it's all about realism. GeForce RTX 2080 is light years ahead of other cards, delivering truly unique real-time ray-tracing technologies for cutting-edge, hyper-realistic graphics.
REINVENTING DESIGN
The factory overclocked GeForce RTX 2080 Founders Edition graphics card features a next-gen 8-phase power supply for maximum overclocking and dual-axial 13-blade fans coupled with a new vapor chamber for ultra-cool and quiet performance.